Brand and branding are the two most commonly confused buzzwords in the industry. It might come as a shock to you if you use these terms interchangeably. Hello, and welcome to yet another one of our exciting blogs. Today we are about to strip down the two words that most people use randomly, and these words are anything but random.
Let us go through these terms one by one and get to know what they stand for.
What is a Brand?
A brand is a yarn that runs through every piece of your business.
It's not just a mark or a logo or a name. It is not defined by your tagline or motto. A brand is everything a business, organization, or entity promises and does. The colors used for your website are your brand. How you answer an email is your brand. The condition of your hallway is your brand. If you promise a one-day delivery, that is your brand. The only derivation from these examples is that small details about you or your organization create your brand.
Your brand describes who you are and what you do by using visual identity, verbal dialog, and tone of action. It is utilized for virtually all of your marketing communications. It is how people identify, know, and remember you.
If you want someone to know what you stand for, it should be demonstrated and illustrated in everything you do, vocal or unvocal, written or unwritten, unambiguous, or intended. Your marketing efforts and branding seemingly influence that judgment, but your brand subsists whether you purposefully and powerfully market your business or not. If you're out there and people are associating with your business, you have a brand.
It's your job to use marketing and branding to maintain and control your brand's perception – to transform the way people perceive and believe in your organization and, in turn, modify their behavior.
WHAT IS BRANDING?
There is a reason why songs from certain commercials get to your head, why you stick to a particular cola company. Take Coca-Cola as an example. Most of us who consume soft drinks cannot figure out the difference between cola from PepsiCo. And the one from Coca-Cola. They seem the same as a normal human being. But year after year, Coca-Cola beats Pepsi by miles. Why does this happen?
The explanation for it lies in psychology. The success of a product depends not only on its quality or cost but also on several other factors, including experience, the emotions and sentiments it summons, the recollections people tend to connect with it, the comfort it offers, and more. The reason is BRANDING.
Before we understand what branding is, let's figure out what it is not. Branding is more than just visuals, attractive logos, and business cards. It is the right mixture of your novel values, mission, vision, and legacy. It is what you do differently than those in the market. It is what makes your product or service exceptional for your customers.
Your brand is the result of the branding effort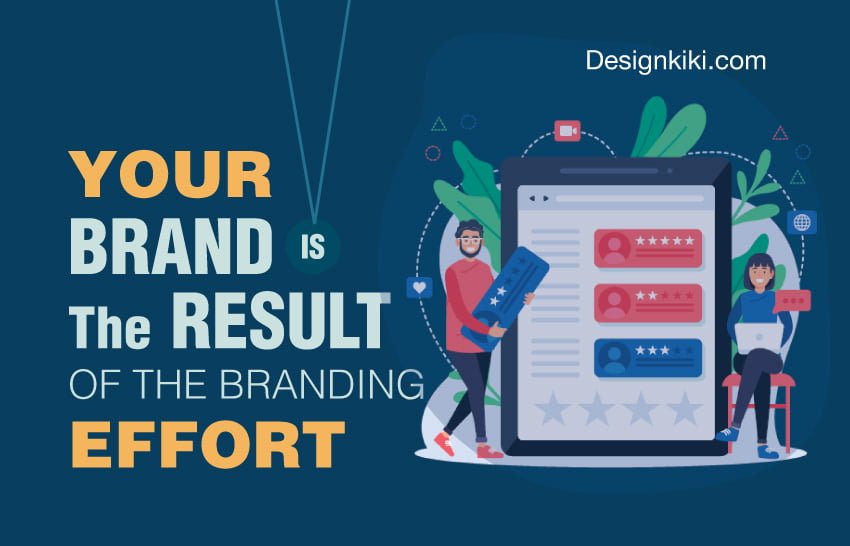 It is the method of creating, sustaining, growing, or becoming a brand. Branding is a strong and sustainable marketing strategy that we use to influence and manage the way people perceive and respond to our brand.
This can be done by creating an affinity or emotional connection with the consumer, providing a rationale for paying a premium price for a service or product, generating loyalty to the product or organization, and demonstrating the quality and benefits of a service or product and the company behind it.
The process of branding involves setting your company or product in the market and shaping out your place, evolving brand strategy, how you will reach your goals, building your name, designing corporate integrity, and setting brand standards to keep your brand consistent and sturdy.
When branding, also called brand development, is completed, most businesses will not have to undertake the branding process for approximately 10-15 or more years. If you create new products and services or launch new companies, you enjoy the exciting process of branding on a more frequent basis. Once the branding process is completed, the word 'branding' has no continuing relationship with your brand.
Branding is all the ownable, identifiable marks that make an organization stand out in the product landscape. Good branding can bring a brand name to mind even when the name isn't present. It's a look, a tone, a feel, and even a sound — everything that is uniquely your brand.
Conclusion
The differentiation between brand and branding is that one is a publicizing instrument, and the other is an effort or perhaps an activity. Probably the most significant mix-up in business terms is the use of brand and branding as synonymous words. Branding is about defining, while advertising is about promoting. Now that you are familiar with the meanings of both the words, we genuinely hope that you make their correct use whenever you do. You will also be able to make an identity for yourself and your brand through the proper branding methods.