Does this ever happen to you? You're all excited to start a new design project and dive right in without trying to make a plan and find interest or perhaps meaning in everything that needs to be done. And then there it lays on a fine in your computer, for eternity, untouched and half-done. You either never make up your mind to complete it, or when you do, you are way past your deadline. This is one of the most conceivable glitches in the life of a designer or any creator. The journey from start to finish is anything but manageable for most of us designers.
Now, give this a thought. Have you ever had the ideal experience, start to finish, during a design project? Probably not, some projects just seem to go nowhere, like that ten-thousandth revision to simple logo design.
Today I choose to write about this because I am one of you if you have one hundred and one incomplete projects, assignments, or designs and another hundred patiently waiting for you even to start working on them.
I have developed a few habits that have helped me over the years, and this is where I share them with you.
Set realistic expectations-
Everyone has expectations for themselves. We often assume these expectations are reasonable. Yet many of them are anything but! We expect ourselves to sit in front of the computer screen without any breaks. We hope to have the same level of—high—energy every day. We expect the creative juices to take us on a design spree all the time. One of the most critical factors in completing projects on time is not accepting work that requires an unrealistic deadline and an unworkable amount of design for the same. Of course, there will be times when a looming period will be a tight squeeze, but if you hope to be able to meet a deadline and provide your highest quality of work, a certain amount of time will be needed.
For instance, if a client is trying to get a business card designed with silly expectations, the timeline needs to be adjusted, or a tonne of problems will follow. Most clients won't know half of what goes into the design they require. They won't always be able to understand what is realistic and what is not, so it is your responsibility to make sure that deadlines and schedules are reasonable.
Get Organized and Develop a Process-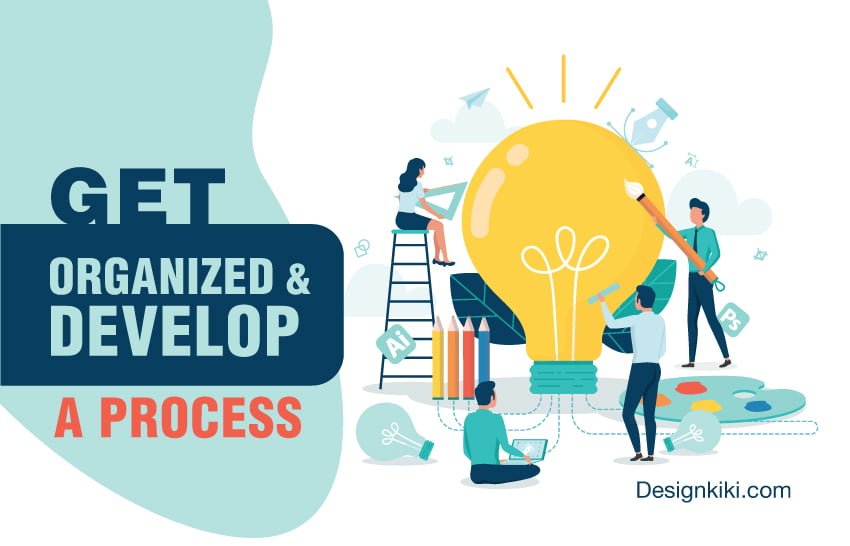 Does HOW you do things matter? Think of an effortless but significant design you make – think of HOW it can be done at its best most efficiently. Now, consider HOW you do it currently. Outline the necessary steps to complete every individual level and then ask yourself these questions:
· What are all the tasks and microtasks that must be done to achieve this?
· Who needs to weigh in on, commit to, or sign off on the work?
· Is this the most efficient way to get from A to Z on this particular design?
Did it trigger your artistic imagination? Commit to being as organized as possible and to find a structure that fits you, your team, and the project. For starters, organize your workstation with all your computer hardware in its appropriate positions, your stationary stacked up neatly, and the whole setup as precise as it can get. This could take some trial and error, but being organized is a process. Another excellent place to start is by using a collaborative design project management tool where collected work can live, stay organized, and be accessible to other team members.
Get yourself an inspiration-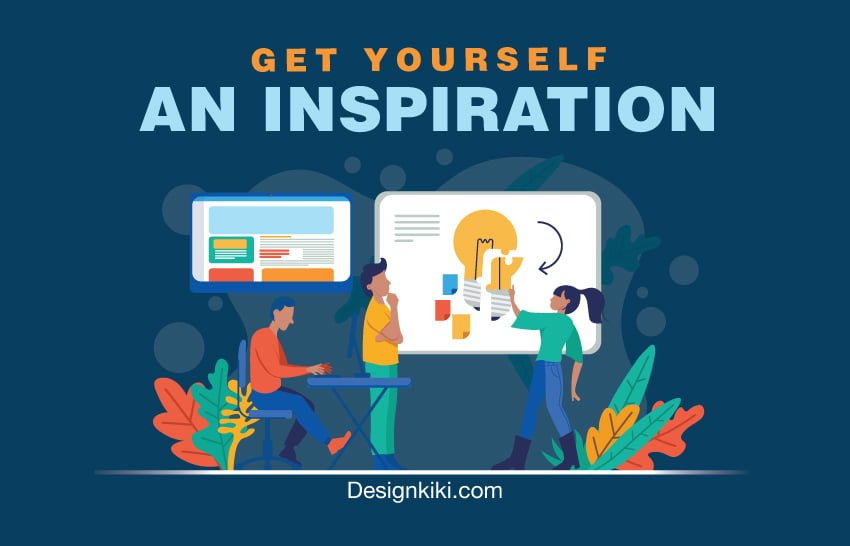 When we are working towards artistic design, it is crucial to admit the purpose of your graphic. Explore:
-What do you hope to achieve with your work?
-What message would you like to create, and how would you like to deliver it?
-Are you working towards an online design, or will your design be printed?
-Who are your clients, and what guidelines have they given you?
-Who would your audience be?
By considering your design brief, you will be able to create parameters for your design that you otherwise would not have. This helps you to drop outcast options and sharpen your possibilities.
Set small goals-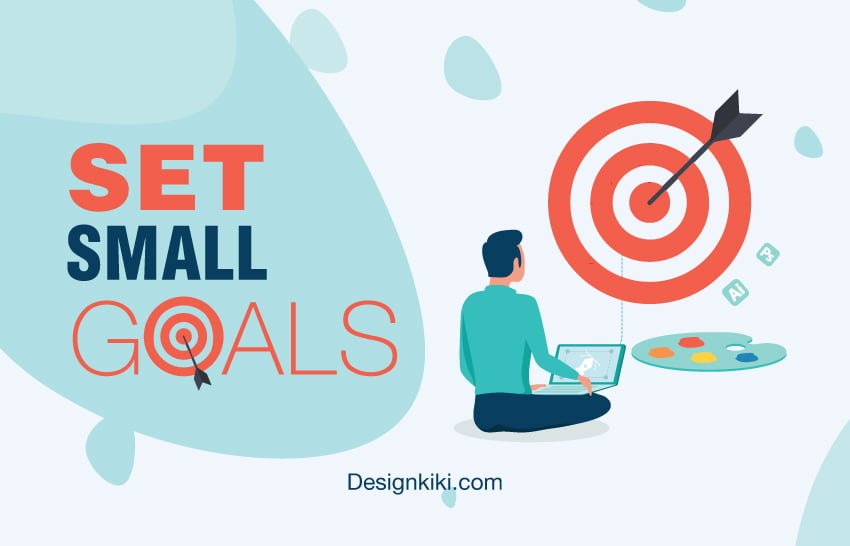 Setting small goals for yourself, you can map your progress because you always have a fixed endpoint or benchmark to parallel with. Framing goals for yourself is a way to fuel your creativity. Goal setting isn't just about creating a plan for your current design project and holding yourself accountable; it's also about encouraging us inevitably to steer for things we never thought possible.
Evaluate your progress-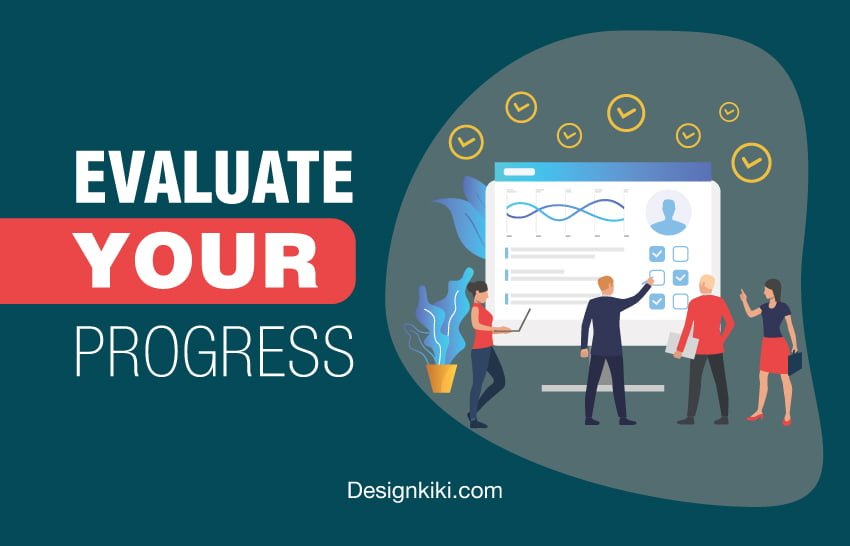 In addition to just setting goals for each day and tasks that need to be performed, it's also essential to assess your growth and improvements and to make sure that you are still on track to face the deadline. If you're not on track, it's most helpful to know that as soon as possible so you can alter your work as needed, and this system will allow you to do just that.
Make a Plan-B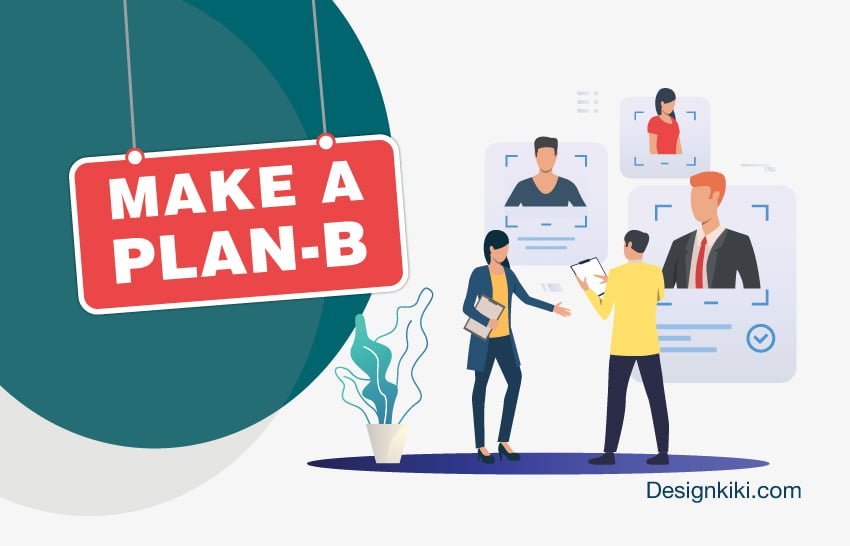 Planning for the unforeseen is an imminent part of the process that will usually be learned after a few misadventures.
Always, always, always make sure that a reasonable amount of extra time is built into your calendar to deal with unexpected difficulties. You never know when they will want the new revision to the same logo. This way, deadlines will not be missed because of the setbacks.
Even though we all know that unexpected things sometimes happen when designing and building a website or a logo, or even just that simple business card, explaining to a client that you can't meet a deadline because of something you didn't anticipate is never a good option. There are occasions when it may come to this even when you have built some extra time into the schedule, but minimizing and dodging these circumstances should be a goal.
Set deadlines-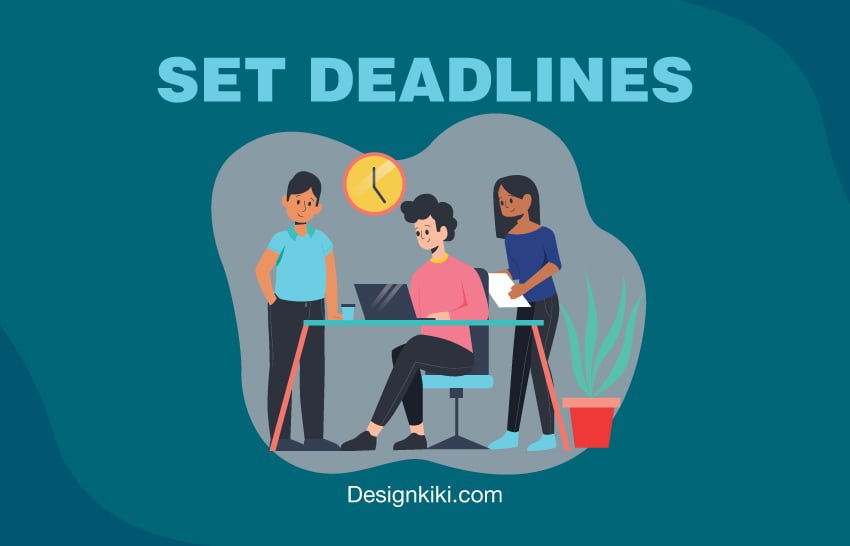 You want to deliver your design goals; writing them down is only the first step. The next step is to set deadlines and to meet them. Now I know the term deadline gives the chills to most of us; nevertheless, they can be the best companions of designers and creators. The reason they are so powerful is that they make large plans or goals more manageable. Writing down your aims and how to obtain them helps you interpret your thoughts and turn them into deeds. Because it makes setting goals appear more concrete, writing them down helps you commit to them.
Conclusion
There are tons of things you can do to improve your productivity, and these are but a few of them based on my personal experience as an artist and a designer. The critical thing to remember here is to stay productive without losing your sleep and bringing all that you create to their finishing point. However, in the end, do not forget your design principles, for they are the light that will bring you to the shore.