Letterhead may seem outdated in the modern world of communication, where email and messaging apps are used heavily. However, their value in professional correspondence cannot be ignored. The letterhead you use to represent your brand should be eye-catching, professional, and leave a lasting impression. In this comprehensive guide, we will explore the importance of professional communication and the purpose of letterhead.
We will also provide step-by-step directions for creating letterhead designs using popular online design software like Canva.com. We will delve into the essential elements of letterhead designs and offer practical tips on how to choose effective sizes. Real-life examples will be used to illustrate these points. Let's discover how online tools can make creating letterhead easier for designers at all levels.
Understanding the Purpose and Definition of Letterhead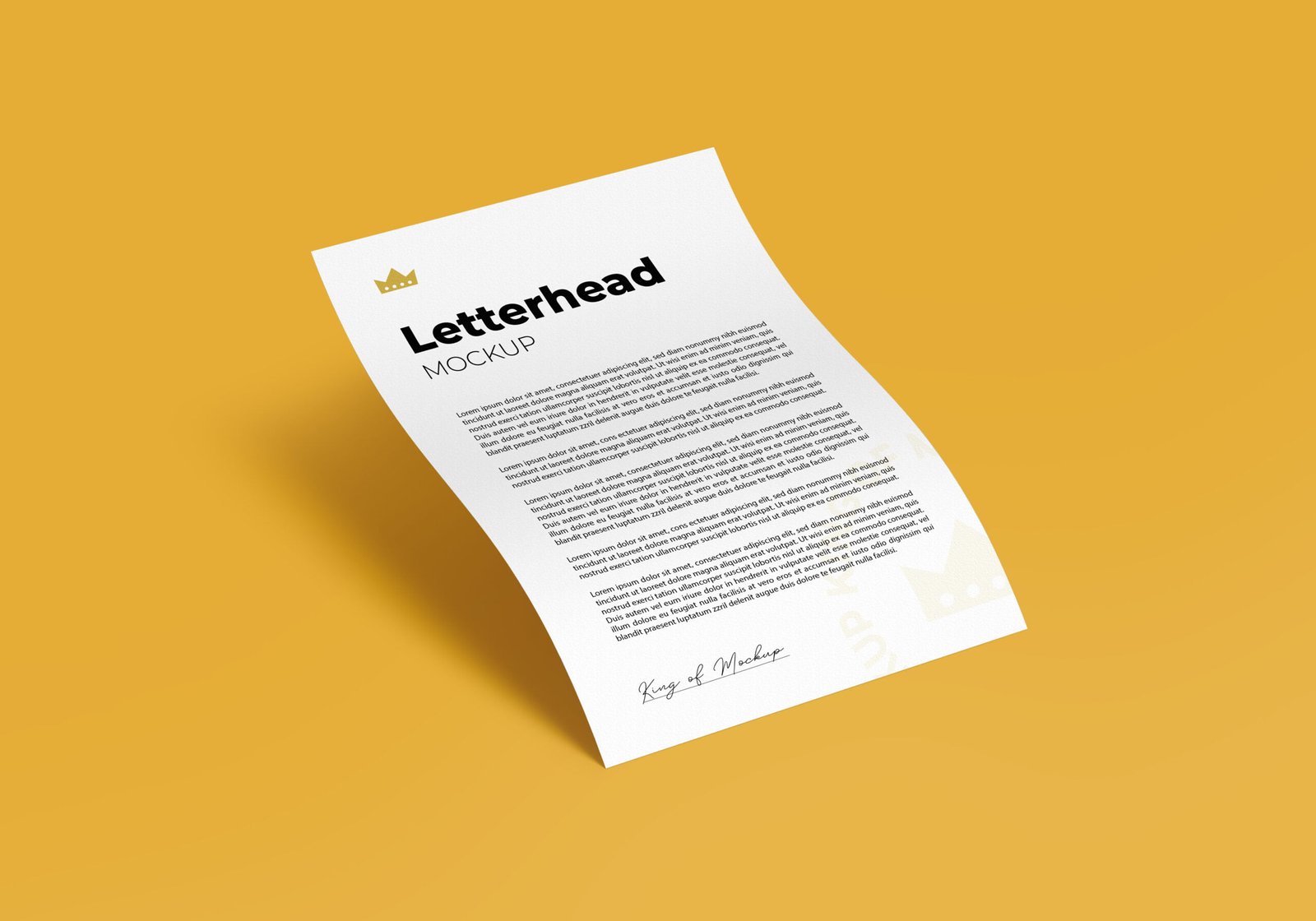 What Is Letterhead?
In its most basic sense, a letterhead is a pre-printed or digitally designed sheet of paper with key information about an individual or organization on it – such as their name, logo, contact details, and any additional elements like watermarks or background designs. These are used to identify official documents like letters, invoices, or memos sent out by individuals and reinforce their professionalism as writers.
The Purpose of Letterhead: Elevating Your Branding Efforts
Branding: Letterhead can help your company build and reinforce its identity, acting as a canvas on which to display its logo, colors, and typography – turning every piece of correspondence into an opportunity for branding!
Professionalism: A well-designed letterhead conveys professionalism and ensures that any communication from the sender is taken seriously by the recipient. It gives them confidence that the sender takes communication seriously.
Contact Information: Letterhead provides essential contact details that make it easier for recipients to reach you, including physical addresses, phone numbers, email addresses, and website URLs.
Legal Protection: Letterhead can offer legal protection by clearly outlining an entity's name and official status; for businesses, this can help establish legal liability.
Recognition: Over time, consistent use of letterhead can build brand recognition by associating it with professionalism and dependability.
Including these essential components in your letterhead can improve not just your branding efforts but also the credibility and image of your business. So, utilize your letterhead to its full potential and watch your brand fly to new heights!
Letterhead as an Essential Part of Professional Communication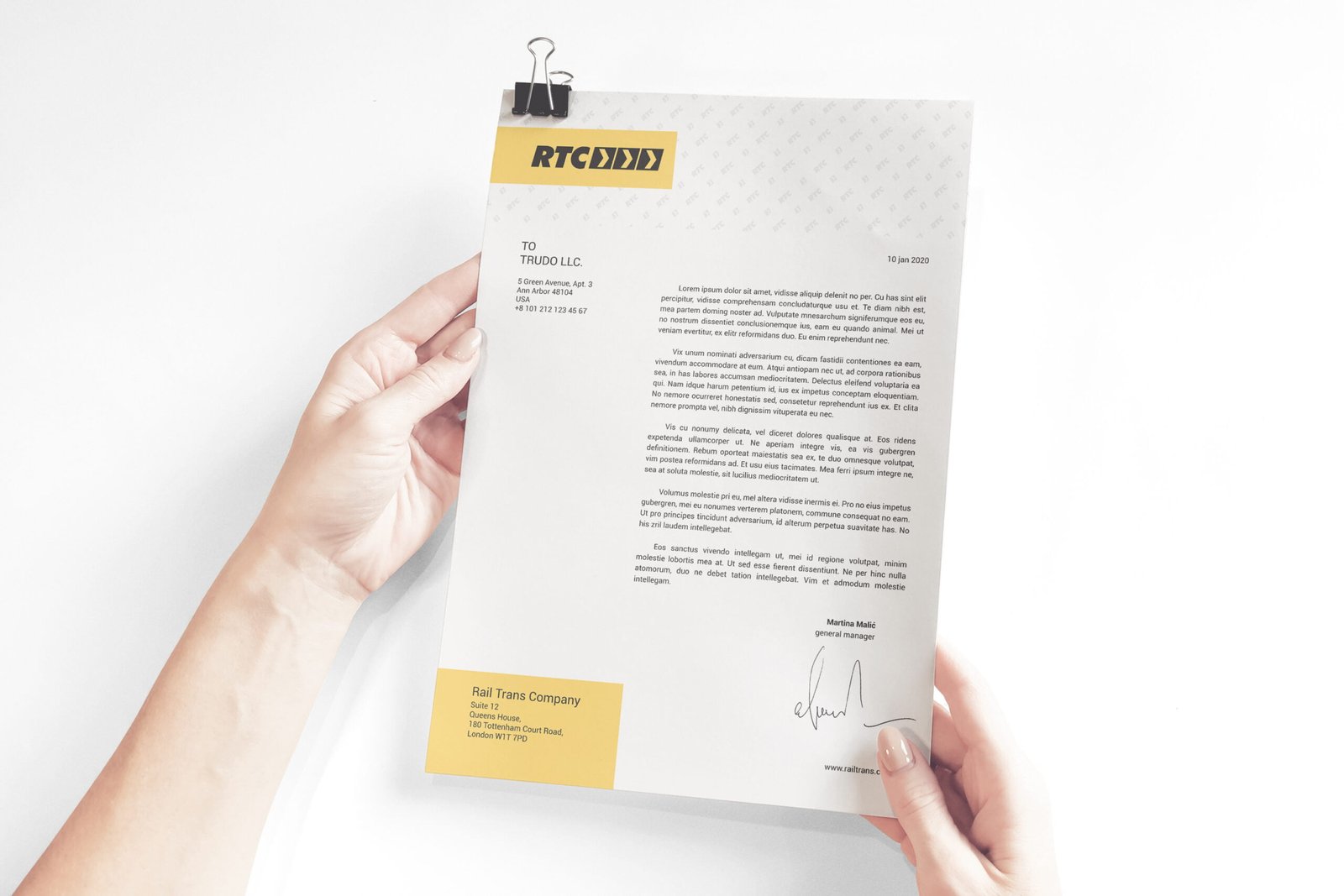 With so much digital media around us today, one may question its relevance in professional communication. But letterhead remains relevant – here's why:
1. Making a Lasting First Impression
Your letterhead creates the first impression for anyone receiving it, setting the tone and atmosphere for further communications with the recipient. A well-designed letterhead creates an effective first impression and sets a positive framework.
2. Reinforcing Brand Consistency
Brand consistency is integral in developing and upholding a successful brand. A consistent letterhead design reinforces brand recognition while creating an overall cohesive image across all forms of communication channels.
3. Establishing Credibility and Trust
A professional letterhead establishes credibility and trustworthiness between sender and recipient by showing they take communication seriously and authentically.
4. Ensuring Legal Authenticity
In certain circumstances, such as contracts, legal agreements, or formal proposals, using letterhead is often essential in making documents legally binding and authentic.
5. Marketing and Promotion
Letterhead can be an effective and subtle marketing tool when designed with your logo and colors in mind, subtly advertising your brand with every piece of correspondence sent out.
6. Creating Memorable Branding
An eye-catching letterhead design will set your brand apart and leave an unforgettable impression on recipients.
By utilizing letterhead in your professional communication, you can enhance your brand image, build trust, and make a memorable impact on your audience.
Using Online Design Tools, Create Letterhead Designs
Now that we understand the significance of letterhead, let's examine how to create one using an online design tool like Canva.com.
Using Canva.com
Canva.com, a popular and user-friendly online design tool, provides a wide range of templates, including those for letterhead. Let's walk through the process step by step.
Step 1: Sign Up or Log In
Sign up for a Canva account if you don't already have one. If you're already a member, simply log in to access the platform.
Step 2: Choose a Template
Once logged into Canva, search for "letterhead design." Canva will offer various letterhead templates that align with your brand or style preferences for you to select from.
Step 3: Customize Your Design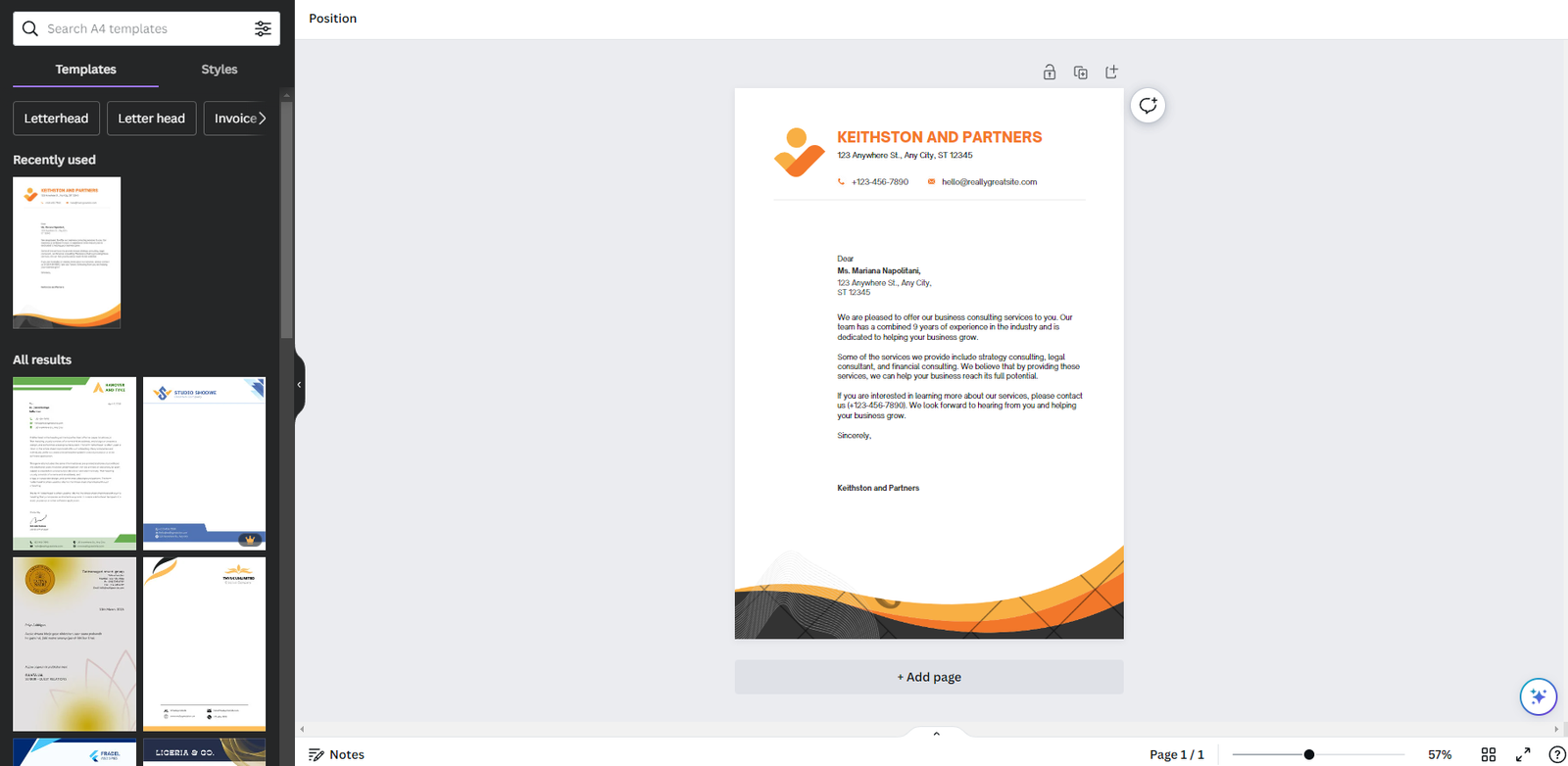 Now it's time to customize the letterhead design as your own! Edit every element, including text, colors, fonts, images, and background images if necessary. Upload your logo, edit contact details, or change up the background as required – the possibilities are limitless!
Step 4: Download and Print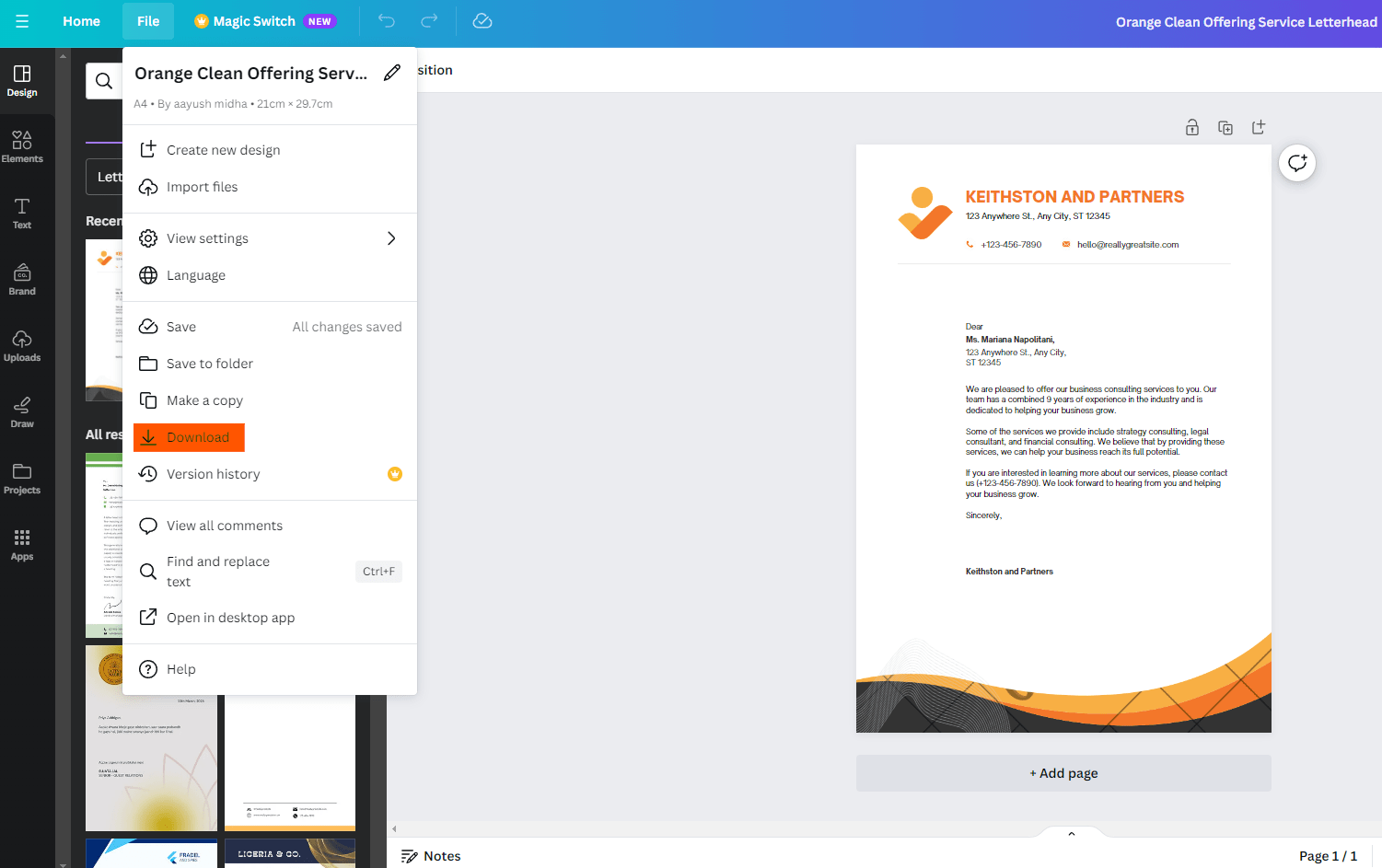 Click the Download button when you are satisfied with your design. There are many file formats available, but PDF is the most popular for professional letterhead. You can print the letterhead yourself or have it professionally printed.
With Canva.com, creating a unique and professional letterhead has never been easier. So go ahead and unleash your creativity!
Key Elements of an Effective Letterhead Design
Now that you know how to create letterhead using online design tools, let's go over some essential components that make an effective letterhead design:
1. Logo Placement
Your logo should be the face of your brand. Position it prominently at the top of the letterhead to make an impactful first impression, ensuring it remains legible even when printed in black and white.
2. Contact Information
Add your company's name, address, phone number, email address, and website URL for easy reference. Make sure the text is legible and organized to ensure easy reference.
3. Typography
Select fonts that complement the style and image of your brand. Aim for no more than two fonts when designing for maximum consistency. Consider using an easily read font for contact details while opting for more stylized ones when writing headings or slogans.
4. Color Scheme
Stick with your brand's color palette for consistency, and an attractive color scheme will enhance brand recognition and professionalism.
5. White Space
Do not overload your letterhead with too many elements; leave enough whitespace for an uncluttered appearance.
6. Background Design or Watermark
Consider including a subtle background design or watermark that complements your brand. It should remain unobtrusive enough not to detract from content while visible enough for aesthetic purposes.
By following these essential components, your letterhead design will exude creativity and captivate your audience.
Practical Tips for Choosing Appropriate Sizes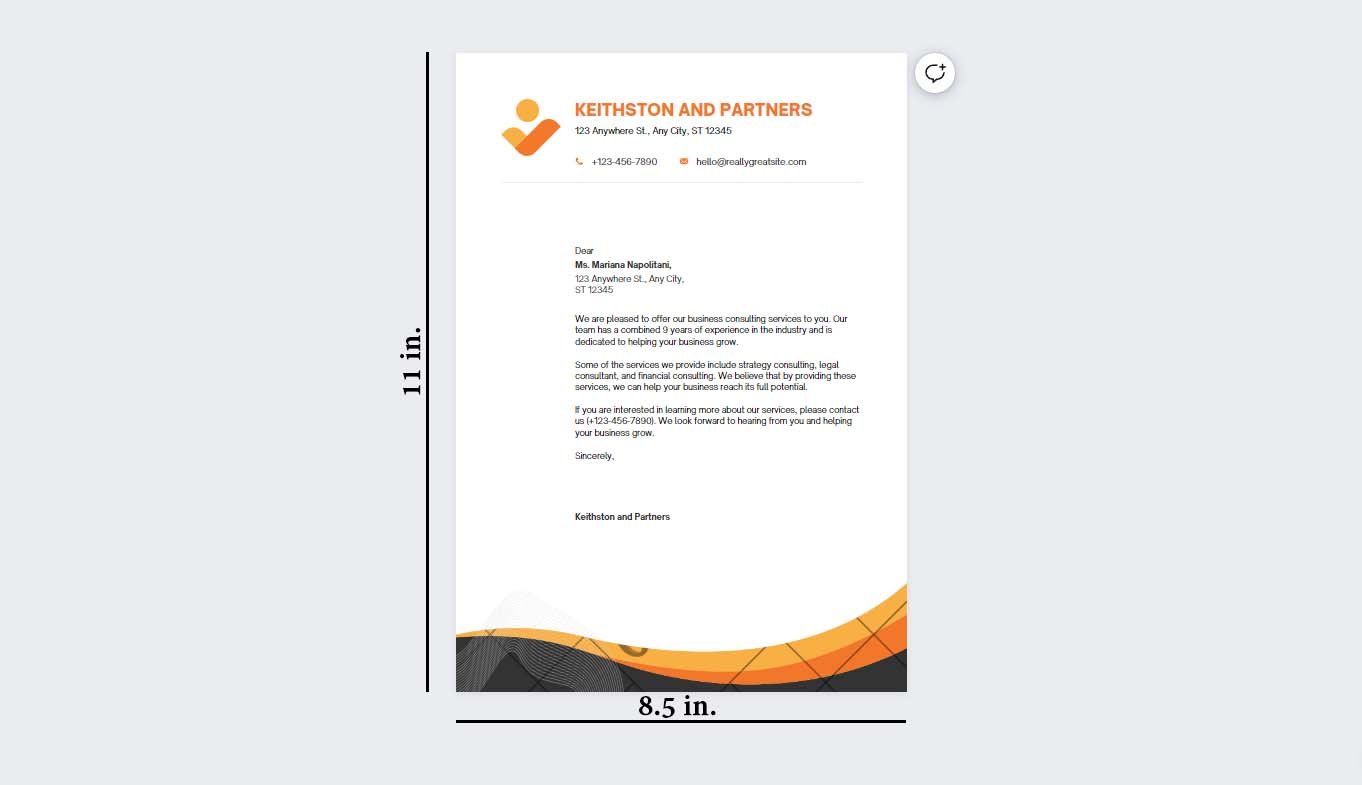 Size can depend on many different factors, including country standard paper sizes and individual design preferences. Below are some practical guidelines to help you select an appropriate letterhead size:
Standard Sizes: In the United States, standard letterhead dimensions are 8.5×11 inches (279mm x 279mm). A4 size (210 x 297mm) is also commonly used worldwide. If possible, stick to these standard sizes to make printing and compatibility simpler and smoother.
Margin: For maximum print results, leave an unprinted margin of at least 0.5 inches (12.7mm) all around to prevent text and graphics from being cut off during printing.
Bleed Area: If your design reaches the edge of the paper, ensure it includes a 0.125-inch (3.175mm) bleed area on each side for printing purposes to eliminate white borders afterward – though be wary as professional printing services may be necessary in some instances.
Consider Envelopes: When creating letterhead, take into account the size and shape of envelopes you plan on using; your letterhead must fit comfortably inside standard envelopes without folding or trimming.
By following these guidelines, you can ensure that your letterhead size is appropriate and meets your design requirements.
Benefits of Using Online Design Tools
Designing letterhead online offers numerous advantages. It not only provides accessibility but is also cost-effective, user-friendly, and encourages collaboration. Let's dive deeper into these benefits:
1. Accessibility
With online design tools, you can create letterhead from anywhere with an internet connection. This is especially beneficial for companies with remote teams or individuals working from different locations. No matter where you are, you can easily access these tools and design your letterhead hassle-free.
2. Cost-Effective
Hiring professional designers can be expensive. However, online design tools offer a more budget-friendly solution. Many platforms provide free templates and resources that significantly reduce design expenses. You can create a professional-looking letterhead without breaking the bank.
3. User-Friendly
Online design tools are user-friendly. No prior design experience is necessary to create professional-looking letterhead.
4. Templates and Resources
Many platforms provide an extensive selection of templates, fonts, and graphics for letterhead designers to select from in order to ensure an eye-catching letterhead design on brand.
5. Collaboration
Online design tools allow team members or external designers to collaborate more seamlessly during the design process.
By leveraging the benefits of designing letterhead online, you can create stunning, on-brand letterhead that leaves a lasting impression.
On a Final Note
A well-crafted letterhead is a powerful tool that reinforces your brand identity, fosters trust, and enhances your overall professionalism. By paying attention to key design elements, choosing the right size, and utilizing online design tools like Canva, you can create stunning letterhead that leaves a lasting impression.
Remember that your letterhead is more than just a piece of stationery; it's a visual representation of your brand's values and commitment to excellence. Whether you're a beginner or an experienced designer, the accessibility and user-friendly nature of online design tools make the process of creating letterhead both efficient and effective. So, go ahead and start crafting your letterhead today, and watch your professional communication elevate to new heights.
Frequently Asked Questions (FAQs)
What is a Letterhead?
Letterhead, whether pre-printed or digitally designed, is a crucial component. It contains vital information about an individual or organization, such as their name, logo, contact details, and often features a watermark or background design.
Why is a letterhead important?
Letterhead plays a significant role in professional communication. It serves as a visual identifier, reinforcing brand identity, establishing credibility, and making a lasting impression on recipients.
How can I create letterhead on Canva?
Now, let's dive into how to create your letterhead using Canva in just 2-3 minutes.
Step 1: Sign up or log in to Canva.
Step 2: Choose a letterhead template.
Step 3: Customize the template by editing the text, colors, fonts, and adding your logo.
Step 4: Download your customized design and print it whenever you need it.
What is the standard size of a letterhead?
In the United States, the standard sizes are 8.5 x 11 inches or A4 (210 x 297 mm).
What is the margin size for letterhead?
Ensure you maintain at least a 0.5-inch margin on all sides.
what is the bleed area of the letterhead?
Include a 0.125-inch bleed area if your design extends to the edge.
What is the format for a letterhead?
The typical letterhead format involves printing an organizational logo and address at the top of any document, often referred to as the initial page header. It serves as the foundation for various business correspondence, including invoices, memos, and proposals. These documents often incorporate elements that reflect the organization's identity and professionalism, such as company names, logos, and contact details.