Looka Design Tool is a powerful AI-powered platform that enables you to create professional logos and branding materials without requiring any prior design experience. It generates a wide range of logo designs tailored to your specific preferences using AI techniques such as machine learning, natural language processing, and computer vision.
Beyond logo design, It also offers a variety of other branding assets, such as business cards, social media templates, and email signatures. This comprehensive suite of tools empowers brands to establish a cohesive and visually appealing identity.
Let's dive into the Looka AI tool functionality, benefits, and potential to drive business growth.
Looka Logo Maker: Create a Professional Logo in Minutes
Designing a professional-looking logo is challenging for those without design expertise. However, Looka Logo Maker simplifies the process in minutes.
AI-powered logo maker generates hundreds of logo mockups tailored to user's brand specifications after answering a few questions about their industry, style preferences, and keywords.
After a user has selected their preferred logo, they can easily customize it by choosing the colors, fonts, and layout that best suit their needs. Additionally, they can add or remove elements from the logo. It's an intuitive interface that offers immediate feedback on any changes made, making the customization process smooth and efficient.
Once you're satisfied with your logo, download it in high-resolution formats, including PNG, SVG, and EPS, for use on your website, social media pages, and marketing materials without sacrificing quality.
The Logo Maker is the ideal solution for entrepreneurs and small businesses seeking a professional logo without hiring a designer. Affordable, fast, and easy to use, It empowers user to create unique and memorable logos that reflect their brand identity.
Bring Your Brand to Life with Looka's Brand Kit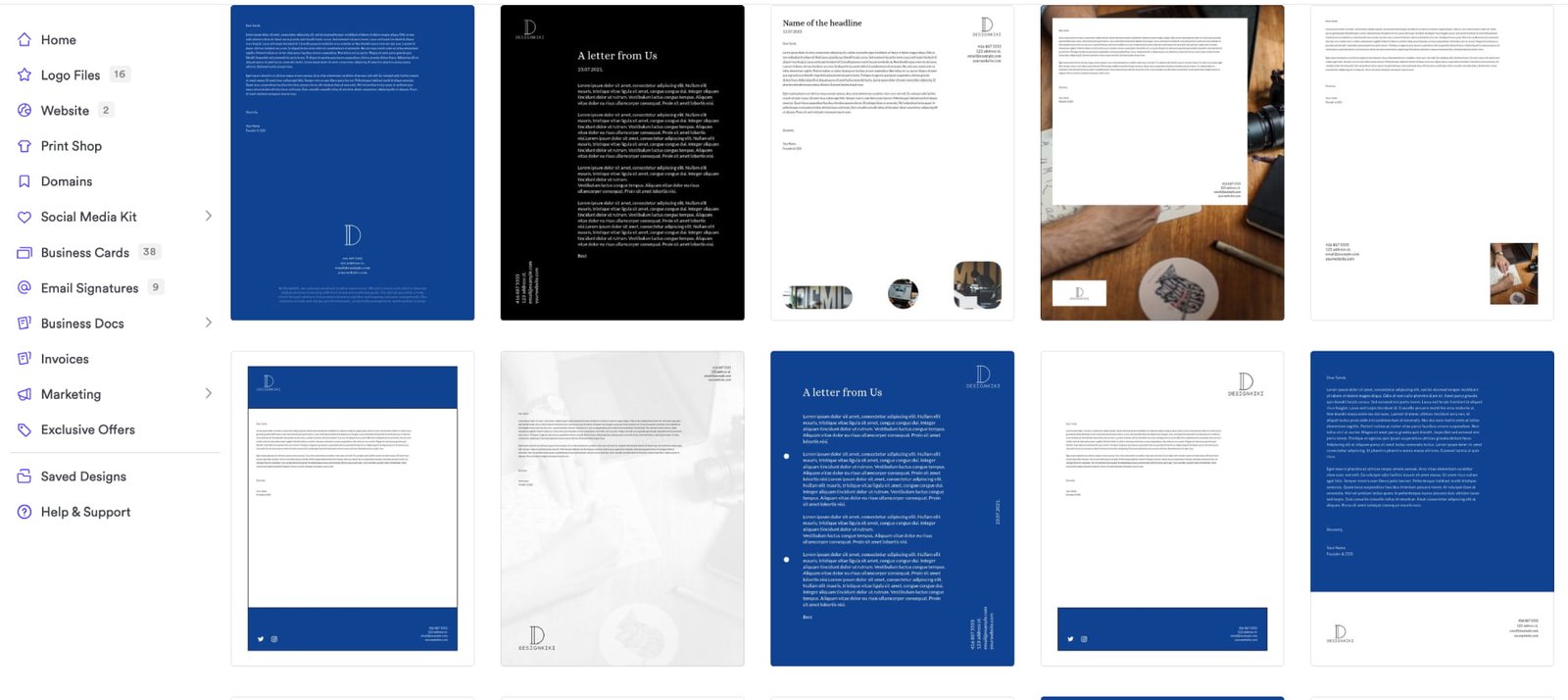 After finalizing a logo concept, Looka Brand Kit empowers you to produce a wide range of brand marketing materials.
This complete suite allows for the effective presentation of your ideas to the public. It includes the design of business cards, social media templates, email signatures, invoices, and letterheads.
Preserving a consistent brand identity can be difficult when dealing with different platforms and materials. However, the Brand Kit simplifies this process by automatically incorporating your logo, colors, and fonts into various templates.
These templates are customizable and can be tailored to suit your requirements. You can add or remove elements, modify the layout, and include personalized content. In the end, the Brand Kit helps maintain a consistent and professional brand identity.
Ready-to-go Social Media Templates
You can take your business to new heights with Looka's diverse array of over 100+ social media templates.
It offers Social Media Templates to enhance your brand's visibility on popular platforms like Facebook, Twitter, Instagram, and LinkedIn. These templates are customizable, ensuring a consistent and professional appearance across all channels.
Revamp Business Card Design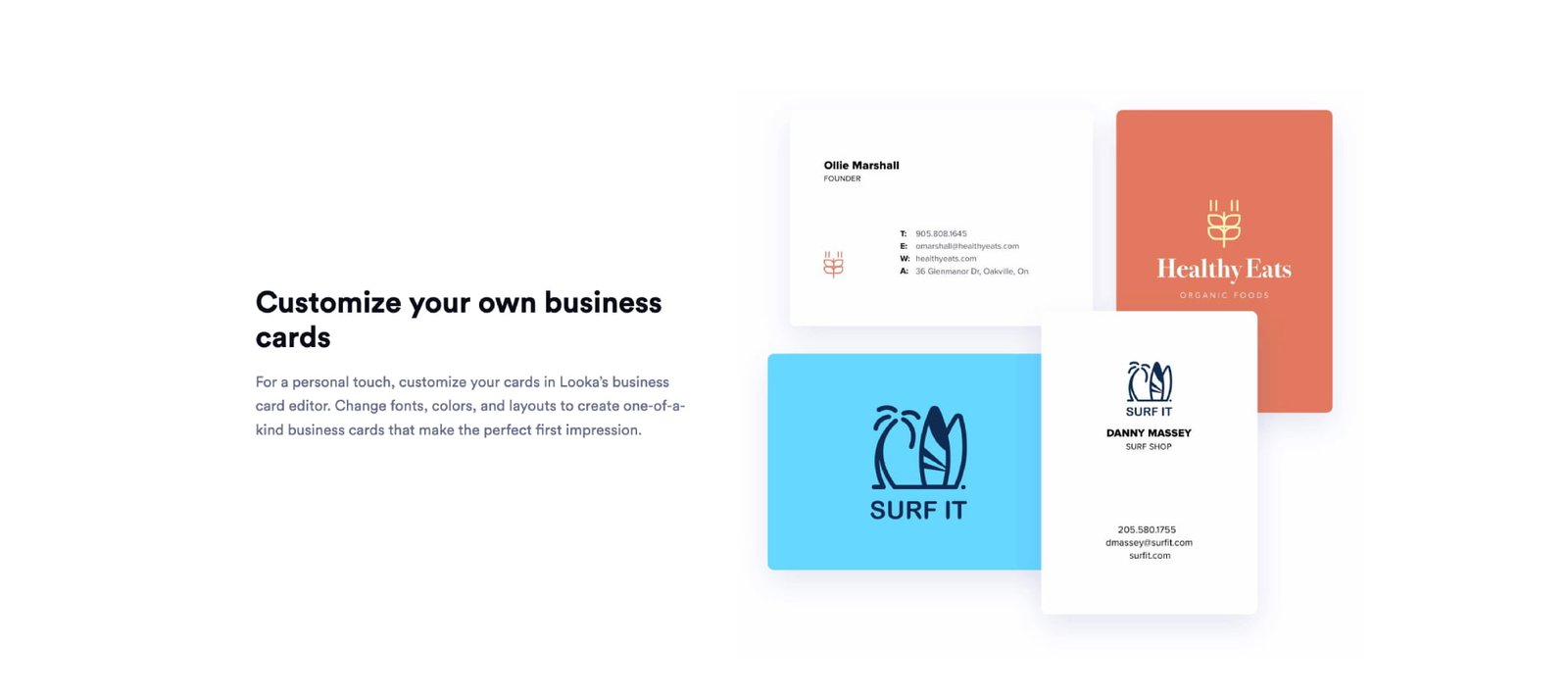 Looka knows how important business cards are for making connections and leaving a good impression. That's why it offers many different designs for business cards, from classic to more creative styles. You can also change these cards to match your brand, making them look professional and leaving a great impression on people you meet for work.
Making business cards that show your brand in a great way is now super easy with Looka.
Looka Business Name Generator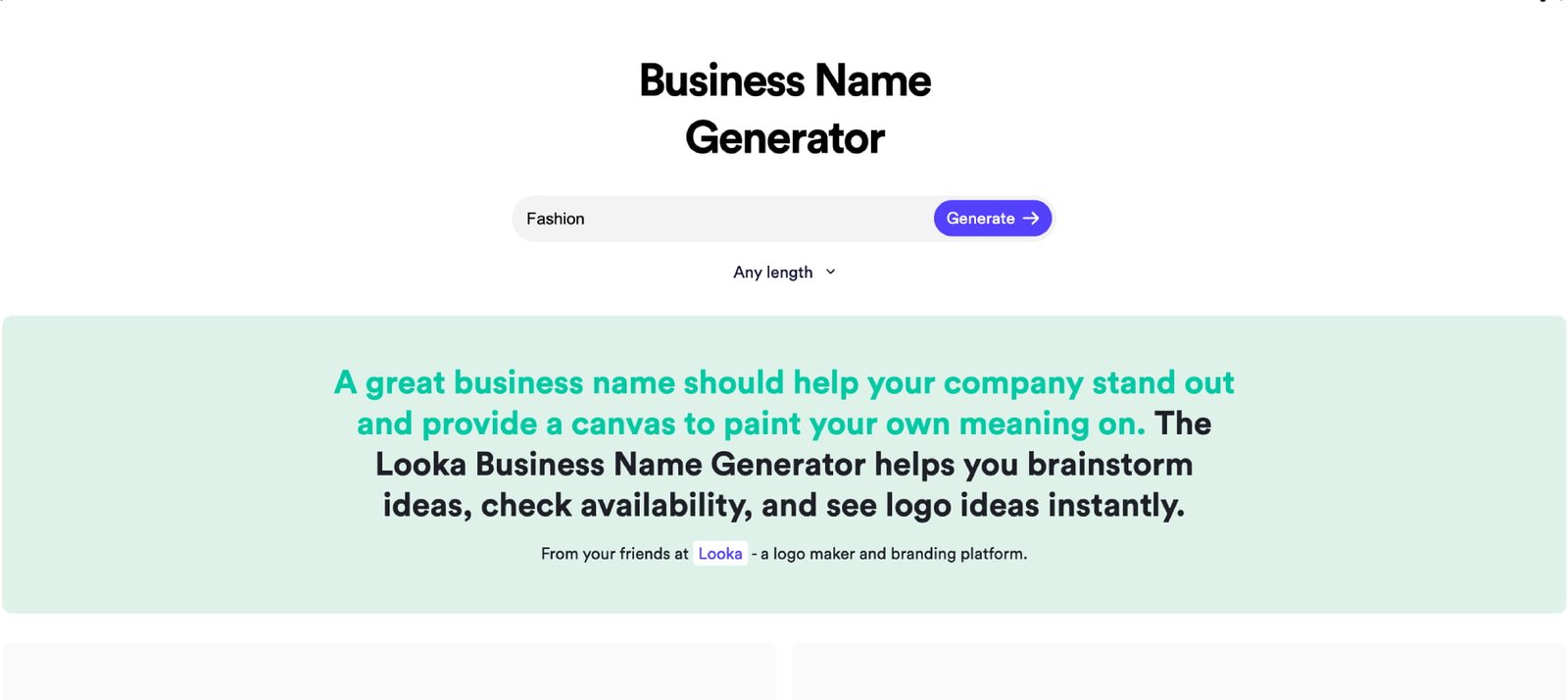 Selecting a business name is crucial for startups. A good business name should be memorable, relevant to your industry, and distinctive.
Looka's Business Name Generator is a valuable tool for entrepreneurs launching new businesses. This AI-powered tool generates a diverse range of unique and relevant business names at lightning speed. You can filter results by industry, keywords, and style.
Business Name Generator can also help you spark new ideas for your business. It provides a list of names and words that can help you better understand your target audience and brainstorm product offerings.
Overall, Business Name Generator is a powerful tool that helps startups find the perfect name.
Conclusion
In conclusion, the Looka Design Tool is a valuable asset for businesses as it allows them to easily establish a powerful brand image. It provides a range of features including logo design, comprehensive brand kits, social media templates, business cards, and business name generation.
It simplifies the branding process and guarantees uniformity and professionalism across all marketing materials and platforms. Thus, Looka is an essential tool for any business aiming to establish a strong brand identity.